Event:
Joey Commisso & Tristen Bright presented by Hiber Mattress Co
Date:
Fri, Sep 22nd, 2023
Time:
8:30 pm to 10:00 pm

Description: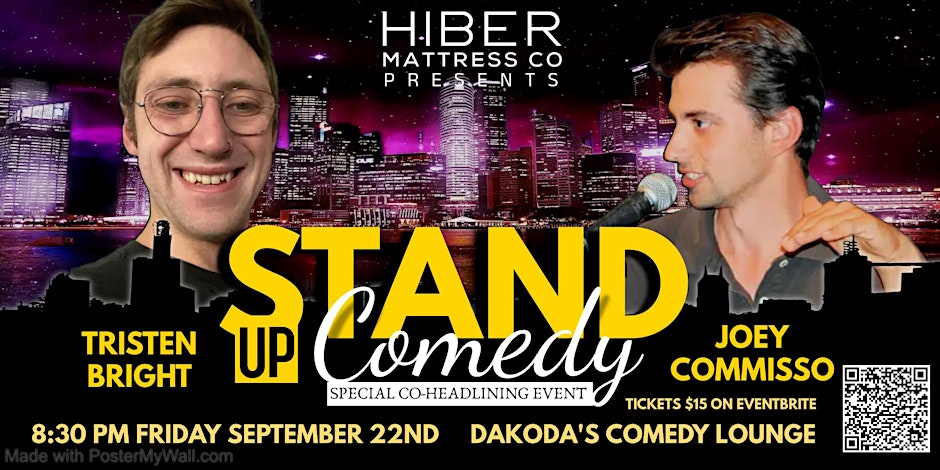 Come out for a huge night of laughs with Joey Commisso & Tristen Bright presented by Hiber Mattress Co.
Get ready for a night of uproarious laughter and side-splitting entertainment as Hiber Mattress Co proudly presents a comedy extravaganza at Dakodas! Join us for an unforgettable evening featuring the dynamic comedic talents of Tristen Bright and Joey Commisso.

Headlining the event is none other than the uproariously witty Tristen Bright. With a knack for turning the ordinary into the hysterically extraordinary, Tristen takes the stage with his arsenal of humorous life experiences and quirky anecdotes. From recounting his escapades in the world of being a dad to dissecting the quirks of current events, Tristen's comedic prowess shines through in every anecdote he shares. His lightning-fast wit and magnetic stage presence create an atmosphere where you can't help but be drawn into his hilarious world.

Joey Commisso is a must-see comedian with a unique style and perspective that speaks to people from all walks of life. With his impressive international experience, having performed across Canada, USA, and Europe, this funny man has taken the comedy world by storm. He has even been nominated for a Vancouver comedy award and performed at prestigious events such as JFL Vancouver festival and Standup NBC. Joey is the real deal, and his hilarious jokes are guaranteed to have you laughing all night long.

Join us at Dakodas for a night that promises non-stop laughter, knee-slapping hilarity, and a chance to witness the comedic genius of Joey Commisso and the electrifying comedic prowess of Tristen Bright. This is an evening where Kelowna's vibrant comedy scene creates an atmosphere that will have you rolling in the aisles. Don't miss out on this comedy extravaganza brought to you by Hiber Mattress Co - because a good laugh is the best way to relax!


Venue:
Dakodas Comedy Lounge
Address:
1574 Harvey Ave, Kelowna
Cost:
$15 at the door - Reservation is advised
Ticketing and/or registration:
Tickets are available online at
Eventbrite
For more info:
Please call 250-860-9500 to reserve