Event:
Ziola Designs presents Comedy for a Cause
Date:
Fri, Sep 29th, 2023
Time:
6:30 pm to 8:00 pm

Description: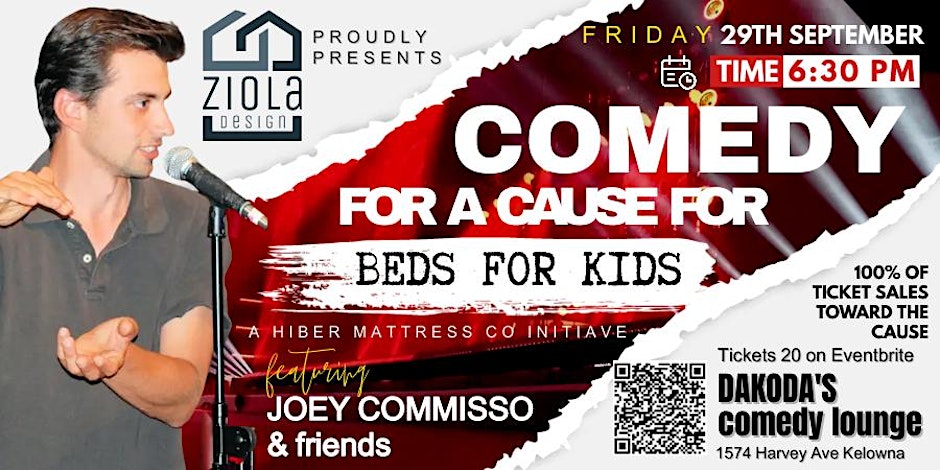 Join us at Ziola Designs for a hilarious night of comedy, where laughter meets philanthropy, as we raise funds for Beds for Kids.
Get ready for an evening of laughter and giving at the Comedy Fundraiser for Beds for Kids, proudly sponsored by Ziola Design.

Join us as we present the renowned comedian Joey Commisso and a lineup of Kelowna's top comedians, all gathering to support a great cause. This night of comedy not only promises endless entertainment, but also contributes to replenish the supply of beds for kids that was depleted by the fires in August.

Joey Commisso is a must-see comedian with a unique style and perspective that speaks to people from all walks of life. With his impressive international experience, having performed across Canada, USA, and Europe, this funny man has taken the comedy world by storm. He has even been nominated for a Vancouver comedy award and performed at prestigious events such as JFL Vancouver festival and Standup NBC. Joey is the real deal, and his hilarious jokes are guaranteed to have you laughing all night long.

All donations from this evening's performance will go towards purchasing new mattresses at below cost from local manufacturer, Hiber Mattress Company. These mattresses will be donated to local families in need whenever the need arrises.

Don't miss this opportunity to share laughter while making a positive impact. Thanks so much to Ziola Design for their generous support that makes these shows possible. Please support them for supporting our community.


Venue:
Dakodas Comedy Lounge
Address:
1574 Harvey Ave, Kelowna
Cost:
$20 at the door - Reservation is advised
Ticketing and/or registration:
Tickets are available online at
Eventbrite
For more info:
Please call 250-860-9500 to reserve