Event:
Yoga Retreat with Hannah Day at Santuary Gardens in West Kelowna
Date:
Sat, Sep 23rd, 2023
Time:
9:30 am to 11:15 am

Description: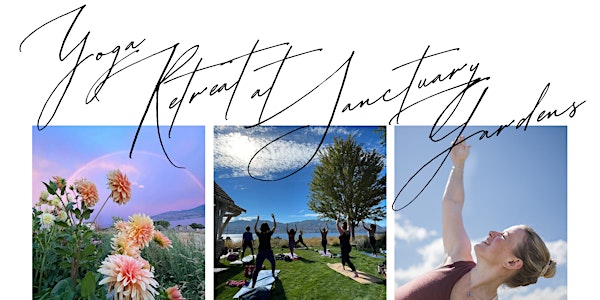 Hannah Day's yoga retreats of 2023 closes off with gorgeous morning views of the lake, mountains and stunning gardens in West Kelowna.
Enjoy the perfect September morning on the stunning grounds of Sanctuary Gardens located in West Kelowna, BC.

Start with an all levels yoga class led by Hannah Day (3 time Best of Kelowna Top Three Winners, for Best Yoga Instructor in Kelowna).

Oragnic Earl Grey Tea + Blueberry Rooibos Tea will be served with specialty bakery buttery croissants, jam & honey after class.

This private garden is a sought after wedding destination and it's all ours for a morning of yoga + tea & croissants on Saturday, Sept 23, from 9:30 AM - 11:15 AM.

Take in stunning views as you connect with nature, community and yourself.

I cannot wait to connect with you & teach you a beautiful yoga class in a gorgeous setting!

PS. Limited spots available.

IMPORTANT:👉 No refunds, unless you are experiencing cold or flulike symptoms or we have smoke from forest fires. If it's raining, there is an event space that has a covering (and open). You can also transfer a spot to another individual if you need to.


Venue:
Sanctuary Gardens
Address:
3792 Carrall Road West, Kelowna
Cost:
$60.00 + fees
Ticketing and/or registration:
Tickets are available online at
Eventbrite
For more info: