Event:
Okanagan Dance Fest - 2023
Date:
Wed, Sep 27th, 2023 to Sun, Oct 1st, 2023
Time:
5:30 pm to 11:00 pm

Description: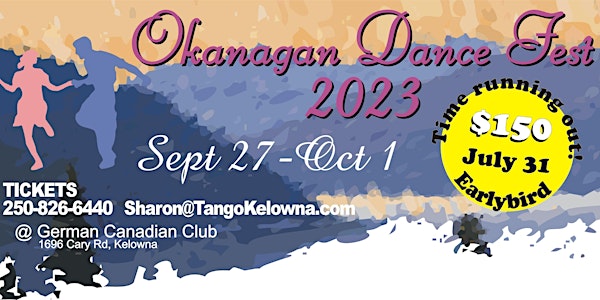 Discover all the Okanagan dance community has to offer, in one action-packed weekend!
- All Styles of dance -

From Lindy Hop to Argentine Tango, Okanagan Dance Fest is a great way to try different types of dances from around the globe right here in the Okanagan! No experience is necessary, all levels of lessons will be available: New Comer - Beginner - Intermediate

So whether you are just getting your dance steps down or have been dancing for decades- this weekend is for you!

For one price you can partake in ALL the activities of the weekend!

Qualified Local Instructors

Sample the Okanagan's Finest Instructors. Expect tons of social dance parties, demos, info on the dance community, classes and so much more! This year we have a hospitality room, as a place to snack and rest, plus licensed evening dances.

Guaranteed Good times!! ~ 4 Nights of Social Dancing

Schedule

Dance Parties will host Introductory Classes (and be a time for us to socialize and practice)! Specially designed for beginners, the curious, and enthusiastic!

New Dancer & Begginer classes will go from the Basics and Beyond.

Beginer / Intermediate classes are recommended for those who have some experience, aptitude, or other dance background. Teachers will start at the beginning and move quickly.

Intermediate /Advanced Classes are for those with significant experience &/or dance background & aptitude.


Venue:
German Club
Address:
1696 Cary Road, Kelowna
Cost:
From $161.08
Ticketing and/or registration:
Tickets are available online at
Eventbrite
For more info: