Event:
Networking with Heart by Journey Henkart
Date:
Thu, Jun 1st, 2023
Time:
5:30 pm to 8:00 pm

Description: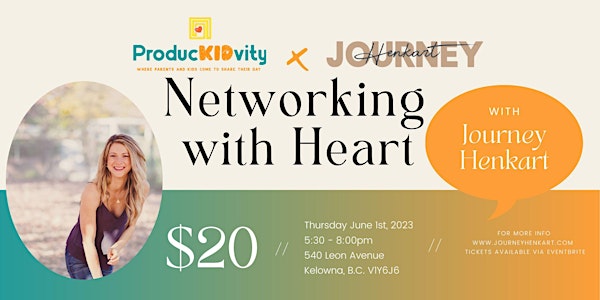 At Networking with Heart, Journey facilitates meaningful conversations with connection guaranteed. This is NOT your basic networking night!
Have you recently attended a networking event where you struggled to shuffle around and meet new people in the room? Do you find yourself stuck in your comfort zone, surrounded by peers instead of new connections? Join us for Networking with Heart, a networking event unlike any other- facilitated by none other than Journey Henkart!

Journey has developed a unique way to Network by Heart. She facilitates meaningful conversations that leave people feeling a deeper connection to themselves and to each other. The experience is upbeat, moves fast, and everyone has a lot of fun.

Journey is an international speaker, published author and world traveler. She co-authored the book "Cool Communication" endorsed by Deepak Chopra, Stephen Covey, and Oprah Winfrey, with a foreword by John Gray, author of "Men Are From Mars, Women Are from Venus". She has over 20 years of experience as a professional public speaker, sharing the stage with thought leaders such as Lisa Nichols, John Gray, Robin Sharma, Jack Canfield, John Maxwell and many others.

Your admission includes (2) drink tickets and light fare. No alcohol or ticket sales will be conducted on-site. Non alcoholic options also provided.

Our Produckidvity Prep program is available for families with children aged 0-5 looking for drop in evening and weekend care. More info here: https://www.produckidvity.com/produckidvity-prep

This event is being held on the unceded, ancestral, and traditional territory of the sqilxʷ/syilx (Okanagan) peoples.


Venue:
ProducKIDvity
Address:
540 Leon Avenue, Kelowna
Cost:
$22.63
Ticketing and/or registration:
Tickets are available online at
Eventbrite
For more info:
Email: hayley@produckidvity.com