Event:
Swipe Right Comedy Night presented by Richard Taylor Realtor
Date:
Fri, Dec 9th, 2022
Time:
8:30 pm to 10:00 pm

Description: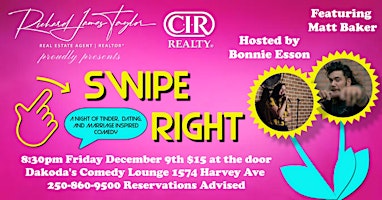 Swipe Right on Laughs! Enjoy some laughs while watching your favourite comics riff on love and relationships at Dakoda's Comedy Lounge.
Richard Taylor, Realtor, invites you to Swipe Right! Tinder is the best and THE WORST thing to happen to modern dating. Come enjoy stories of bad dates and relationships gone wrong with some of the funniest comedians in the city. If you have a significant other or you are feeling insignificant, this is the show for you! Hosted by the Queen of Kelowna's Tinder Kingdom, Bonnie Esson. This show will feature a fantastic line up of comics including your feature act, Matt Baker. Matt is a touring headliner and crowd favourite. He is tall, handsome, and funny. Get ready to fall in love. We will put a big smile on your face! Swipe right on laughs.

Thanks so much to Richard Taylor for making this show possible with his generous support of Kelowna Comedy. Please contact him when deciding to purchase real estate in the Okanagan.


Venue:
Dakodas Comedy Lounge
Address:
1574 Harvey Ave, Kelowna, V1Y 6G2
Cost:
$15 at the door - Reservation is advised
Ticketing and/or registration:
Tickets are available online at
Eventbrite
For more info:
Please call 250-860-9500 to reserve