Event:
Comedian Justin Nichol presented by Haven Sleep Co
Date:
Sat, Oct 8th, 2022
Time:
8:30 pm to 10:00 pm

Description: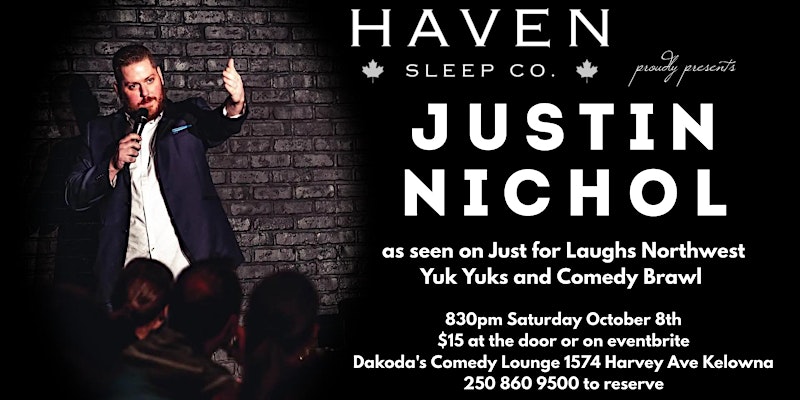 Comedian Justin Nichol is coming to Kelowna thanks to Haven Sleep Co!
Haven Sleep Co is excited to present a huge night of comedy with Justin Nichol.

Justin Nichol is a high paced, loud and in your face comedian who doesn't hold any punches. An every day, hard working guy, he will win you over with his take on life as a new father, and his frustration with how the world seems to work. Before the world shut down, Justin was touring the country doing stand up comedy with highlights including tv appearances on the tv shows; Comedians on the Run, The U&I talk show, an appearance at the Just For Laughs Northwest Comedy festival opening for Tim Dillon. He's also the creator and producer of Justin Nichols Comedy Brawl at House of Comedy BC. and shared the stage with legends such as John Cleese, Jeremy Hotz, Mike Macdonald and Brent Butt.

Thanks so much to Haven Sleep Co for their generous support of Kelowna Comedy and for making so many shows possible. Please support them for supporting us.


Venue:
Dakoda's Comedy Lounge
Address:
1574 Harvey Ave, Kelowna, V1Y 6G2
Cost:
$15 at the door - Reservation is advised
Ticketing and/or registration:
Tickets are available online at
ShowPass
For more info:
Please call 250-860-9500 to reserve