Event:
Create a Silk Scarf-Water Marbling Workshop
Date:
Sat, Jul 31st, 2021
Time:
11:00 am to 5:30 pm

Description: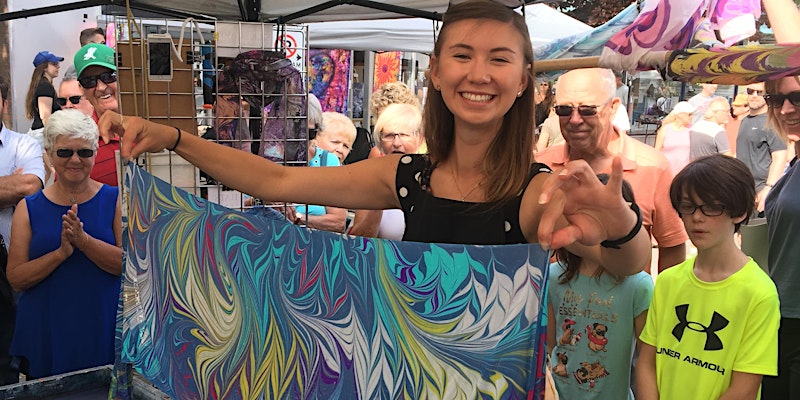 Join us and create a piece of wearable art using the magic art of water marbling.
Join us at Meadow Vista Honey Wines to create with the magic of water marbling!

We bring the beautiful, ancient art of water marbling to the 21st century by inviting you to be the artist. Come and make your own water marbled silk scarf. Each artist chooses their colours and floats the paint one drop at a time on the surface of the water, then uses marbling combs, rakes, or stylus to create the design of their liking. ALL AGES WELCOME! If you can sprinkle cheese on a pizza or write your name with a pencil you can create magic with us!!!

Tickets are booked by time slot...for example, 11am-1pm silk scarf. In that time slot we will show you a demonstration, and then you will create your masterpiece! Up to 8 tickets per time slot available. Your ticket includes all supplies to create your 14 inch by 72 inch scarf, as well as a wine tasting and wine. Non-alcoholic options available.

Choose one of our three workshop time blocks:

workshop 1- 11am-1pm

workshop 2- 1pm-3pm

workshop 3- 330pm-530pm

OUTDOOR EVENT

If you are looking for information about a private or group session please email colourdropdesign@hotmail.com. Or you can check out our website at www.colourdropdesign.com.


Venue:
Meadow Vista Honey Wines
Address:
3975 June Springs Road, Kelowna, V1W 4E4
Cost:
53
Ticketing and/or registration:
https://www.eventbrite.ca/e/create-a-silk-scarf-water-marbling-workshop-kelowna-tickets-159699305923
For more info:
colourdropdesign@hotmail.com

colour drop design
Join us for a magical and fun experience.
www.eventbrite.ca/e/create-a-silk-scarf-water-marbling-workshop-kelowna-tickets-159699305923