Event:
Teen Art Workshops at the Kelowna Art Gallery
Date:
Fri, Jul 31st, 2020 to Tue, Aug 4th, 2020
Time:
1:00 pm to 4:00 pm

Description: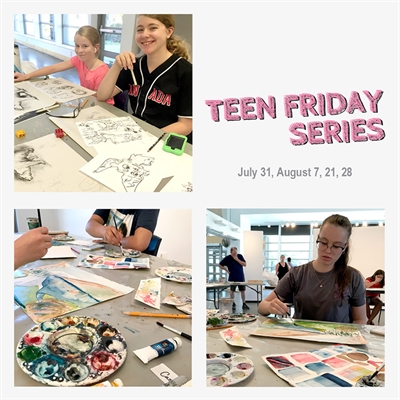 This summer the gallery is once again offering the very popular Teen Friday Art Workshops.
This is geared to youth aged 13 to 17 to explore and expand their creative practice. Every Friday there will be a different theme and participants will explore a wide variety of subjects and materials. Instructors provide an open and supportive environment for students to learn a variety of techniques and develop their own personal style. This program runs every Friday, from 1 to 4 pm, beginning July 31 and through to August 28. Space IS limited so be sure to register in advance, by clicking on the link above.


Venue:
Kelowna Art Gallery
Address:
1315 Water Street, Kelowna
Cost:
N/A
For more info: