Event:
Lindsay Kirker // This Is A Love Story
Date:
Fri, Nov 5th, 2021 to Sat, Dec 18th, 2021
Time:
11:00 am to 4:00 pm

Description: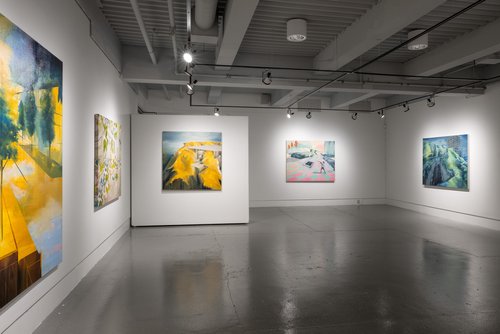 This is a Love Story is a response to internal exploration and external observation by artist Lindsay Kirker.
The paintings take their cue from the rapid expansion of the urban landscape, surveying a curiosity and fascination with the built environment and a concern for the nature that surrounds us.

A need for stability manifests itself through an attraction to structure. Considering most of our time is spent in the city, these spaces inform and influence us. A sense of order is established through line, grid, and repetition, assuming pattern and stability. This suggests that life unfolds linearly, that we take the same unconscious routes, among clearly defined paths and that there is an order between our experience and the people we come into contact with. The painting reflects the human mind and spirit, intuition and behaviour, perhaps more spontaneous encounters that occur outside of these assumed patterns of activity.


Venue:
Alternator Centre for Contemporary Art
Address:
421 Cawston Ave, Unit 103, Kelowna
Cost:
For more info: