Event:
Care for the Caregiver: Self-Care Program
Date:
Sat, Feb 15th, 2020
Time:
9:00 am to 12:00 pm

Description: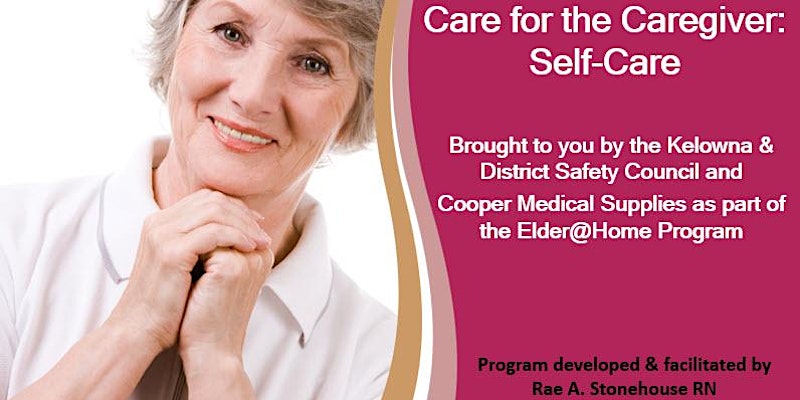 As a caregiver: Are you angry about things the way they are? Are you anxious about facing another day? Are you exhausted because of ever present concerns and sleepless nights? Are you frustrated that you can't do more or that you're missing out on life? Are you feeling isolated?
If you answered 'yes' to any of these questions you are likely experiencing stress and are at risk of caregiver burnout.

In this interactive workshop we identify causes of caregiver stress that can lead to burnout if left unchecked.

We explore:

Caregiver's duties & responsibilities
The caregiving journey
Caregiver burnout
Stress in caregivers
… and provide practical solutions!

Note: This program will be of value to those caregivers providing care for individuals other than elders as well.
Care for the Caregiver: Self-Care Program is part of Elder@Home series of programs for seniors at the Kelowna & District Safety Council

395 Hartman Rd. Kelowna, BC V1X 2M9
Tel. 250-765-3163

Since 1980, the Kelowna & District Safety Council, a nonprofit charity, has provided relevant, evidence-based safety training, education, and advocacy for tens of thousands of people. Our vision is a community in which everyone leads a longer, healthier, and more fulfilling life through safety.

Course facilitator Rae Stonehouse is a practicing Registered Nurse of over 40 years. He has worked predominantly in the field of mental health and psychiatry, with extensive experience working in senior care. He has taught various healthcare programs to adults in post-secondary school settings and is the author of a variety of self-help publications and on-line courses.

Elder@Home is proudly sponsored by Cooper Medical Supplies. A trusted source of medical supplies in Kelowna since 1991. Cooper Medical Supplies has the interior's most comprehensive selection of medical supplies & equipment for seniors and others living with chronic medical conditions. Cooper Medical has exceptional staff who can answer your questions and help you find solutions for safety, independence and privacy.





Venue:
Kelowna & District Safety Council
Address:
395 Hartman Road, Kelowna, V1X 2M9
Cost:
$45 - $75
Ticketing and/or registration:
https://www.eventbrite.ca/e/care-for-the-caregiver-self-care-tickets-85835449139
For more info:
250-451-6564

Kelowna & District Safety Council
www.eventbrite.ca/e/care-for-the-caregiver-self-care-tickets-85835449139