Event:
Canada's Great Kitchen Party Kelowna
Date:
Fri, Nov 15th, 2019
Time:
6:00 pm

Description: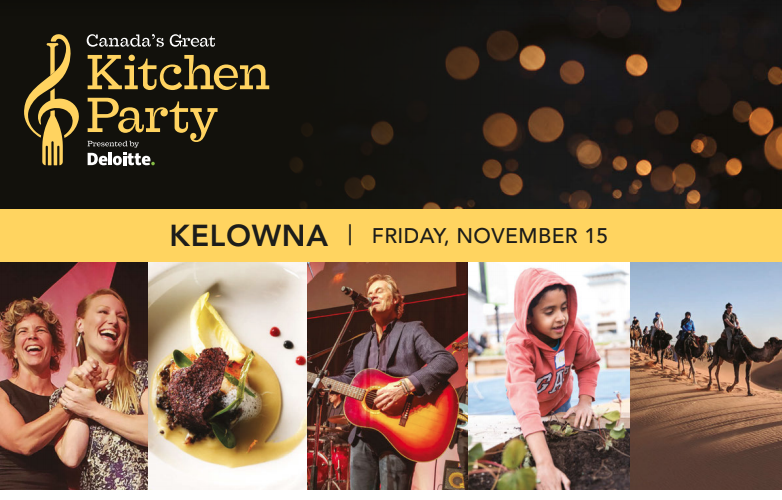 Regional Qualifier for the Canadian Culinary Championships. Join us for an evening of celebration and elevation of Canadian culture in food, sport and music. Savour the dishes of Kelowna's best chefs as they compete to be on the podium.
Canada's Great Kitchen Party Kelowna - Regional Qualifier for the Canadian Culinary Championships

Join us as Kelowna hosts Canada's Great Kitchen Party on Friday, November 15th at the Delta Hotels by Marriott Grand Okanagan Resort. It is a prestigious evening to celebrate Canadian excellence and to provide young Canadians the opportunity to be extraordinary through sport, music and food.

The evening begins with the culinary competition where seven talented and distinguished chefs from the Okanagan Valley serve their chosen dish, paired with a Canadian beverage, to a panel of judges. Who will be the first regional Kelowna Chef to be named the gold medalist and move on to represent Kelowna in the finals in Ottawa on January 31 and February 1, 2020 in our Nation's capital.

The top chefs selected to compete in this prestigious culinary event are:
Rob Walker - Big White Ski Resort
Kai Koroll - BLOCK ONE Restaurant at 50th Parallel Estate
James Holmes - Salt & Brick
Chris Braun - RauDz Regional Table
Brock Bowes - CrAsian Food Corp.
Andrea Callan - Red Fox Club at Indigenous World Winery
Jeff Van Geest - Miradoro at Tinhorn Creek

"Kelowna has been the proud host of the National Canadian Culinary Championships for the past nine years, but we have yet to have had the opportunity to have a local chef compete." explains Daniel Bibby, Kelowna Co-Chair. "This November we'll be able to showcase seven of our local Okanagan chefs and have Kelowna represented at the National event in Ottawa, it is pretty exciting!"

Canadian Music Hall of Fame and Order of Canada recipient, Jim Cuddy from Blue Rodeo has been confirmed to perform at the event. The full musical line-up will be announced in the next few weeks.

After the culinary competition, the 350 + VIP guests at the event will be invited to the second part of the evening, the Celebration Gala. Elite athletes from amateur, para and pro sport will be introduced to the guests and they will have the opportunity to enjoy some wonderful music.

In addition, there will be a spectacular line-up of auction items, such as getaways with elite athletes and Canadian entertainers: Jim Cuddy/Alan Doyle/Johnny Reid/Bill Henderson/Barney Bentall and others to Matera, Italy; Provence, France; Vietnam, Ireland, Nashville and New Orleans.





Venue:
Delta Hotels by Marriott Grand Okanagan Resort
Address:
1310 Water Street, Kelowna, V1Y 9P3
Cost:
$300
Ticketing and/or registration:
http://greatkitchenparty.com/ca/cities/kelowna/
For more info:
250-864-5217 + kelowna@greatkitchenparty.com
greatkitchenparty.com/ca/cities/kelowna/